June 6, 2012
In the News

Full Recap and Bulletin Insert coming this Thursday! Stay tuned to www.awfumc.org/ac2012 for an informative bulletin insert. It is printer friendly and we encourage you to share with your local congregation this Sunday. A full recap article detailing all actions of the conference will also be posted on the home page by Thursday."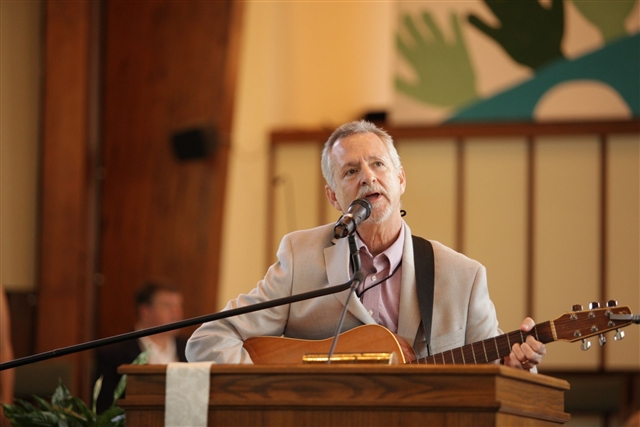 Approved Budget: The conference established an $11.131 million budget for mission and ministry for 2013, down 2.61% from 2012."
Statistician's Report:"Membership stands at 146,782,"down less than 1% from the previous year. Worship attendance stands at 66,145, down 2%. Church school attendance stands at 28,131, down 2%. Small groups was one category that showed increases: there was a 38% increase in persons in covenant discipleship groups, 6% increase in short-term classes for learning of all ages and mission teams showed increases in all categories."
"
Special Recognition
:"
Rev. Edwin Sells
was recognized and applauded for attending his 59th consecutive annual conference."
"
Courtesies and Appreciation
:
Dr. Wesley Wachob
"of
Pensacola FUMC
entertained the audience with his delivery of courtesies and appreciation and recapping the 2012 Annual Conference Session and thanking those who were instrumental in leading the event."
"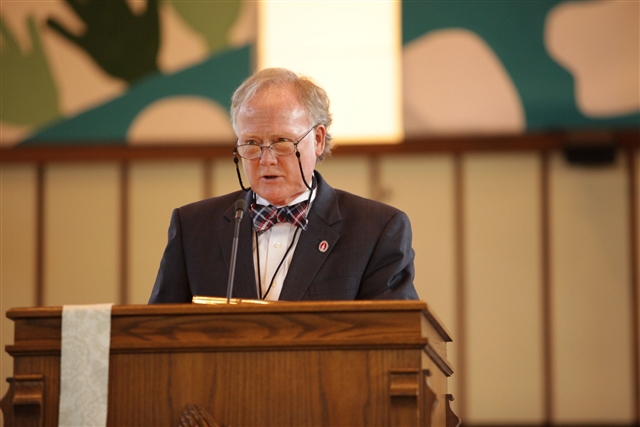 "
Sending Forth
:
Rev. Tonya Elmore
offered a prayer to begin the service of sending forth and was followed by the"10th grade men's ensemble from
Pensacola FUMC
. They exemplified their talent and the "style" of both their senior pastor and district superintendent by uniformly wearing bow ties. The Episcopal Address was offered by
Bishop Paul L. Leeland
and highlighted the many areas of thriving ministry and fruitful congregations. To conclude the service, each respective district superintendent read aloud the appointment changes within their district and the Bishop set the appointments."
"
2012-2013 AWF Conference Clergy Appointment Boo
k: The clergy appointments may be found online"
here
. A friendly URL has also been established:"
www.awfumc.org/apt2012
."
"
Miss One
? Click
here
"to view each of the daily e-mails sent during the 2012 Annual Conference. "
2013 Annual Conference: The 2013 session of the AWF Annual Conference will be held June 2-5, 2013, at Christ United Methodist Church in Mobile, AL. We express our sincere appreciation to the Christ United Methodist Church Leadership Team and Rev. Jeff Spiller for their hospitality during this year's annual conference."
New Church Development Special Offering Update: Frank Dunnewind, AWF Conference Treasurer, reported that the special offering for Imagine No Malaria has now totaled over $54,000 and additional contributions are still being received. The offering collected at the ordination and commissioning service for the Ministerial Education Fund collected over $1,600. Thank you!
UMCOR Kit Drive Numbers: Fifty-eight churches participated in the UMCOR kit drive yielding more than 1,275 kits. Thank you for your generosity during this crucial time of need."
Post Annual Conference Survey: Click here"to take the survey. We want to hear from you!
Get a Copy: CD and DVD copies of many portions of annual conference are available for purchase. Click here"for the order form."
Multimedia
Photos
View photos from the 2012 Annual Conference session (added daily)"
Up Next
Sign up for Jurisdictional Conference updates by going here"and selecting the first subscription option. All clergy and lay leaders are automatically added to the list. For more information on Jurisdictional Conference, click here."