"June 4, 2012
In the News

Morning Bible Study: Dr. Ben Witherington, from Asbury Theological Seminary, led the morning Bible Study session focusing on the need to be about serious contextual study of the Bible."
Service of Remembrance and Holy Communion: Twenty-seven clergy and clergy spouses who had passed since the 2011 AWF Annual Conference session were remembered today during the Service of Remembrance and Holy Communion. Dr. George Mathison of Auburn UMC"offered the inspiring sermon based on Hebrews 12: 1-3 entitled, "The Hall of Saints." An overflow crowd remembered those that have given many years of service to the conference. Surviving family members were hosted at a special luncheon by the AWF Commission on Archives and History."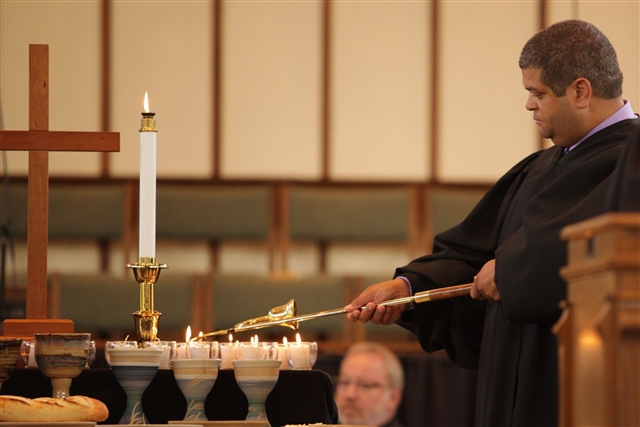 Business Session: Rev. Gary Daniel, Marianna-Panama City District Superintendent, welcomed everyone on behalf of the host district. Various reports were given from conference boards and agencies."
Commissioning & Ordination Recognition: Those approved for commissioning and ordination as deacons and elders were introduced by Dr. Larry Bryars and received a standing ovation.
Asbury Award:"Dr. Gene Watson of Eufaula FUMC"received the"Francis Asbury Award"today."He has served on the BHECM for the last two quadrennia and has been instrumental in reshaping the work of the board. He also has served as liaison to the Troy University Wesley Foundation in addition to helping develop a college scholarship program at his home church.
Local Pastors:"Those local pastors receiving their license for the first time were greeted by Bishop Leeland and recognized during today's afternoon business session."
Extension Ministers:"Clergy serving in Extension Ministries (appointments outside the local church) were introduced this afternoon and applauded by the annual conference.
Retiring Clergy Recognized: Twenty-seven clergy were recognized upon their retirement during today's business session. Together, the following clergy have a combined 502 years of service in our conference. They are:
Full Elders
Dawn Bond
Donna Coty
Fred Funches
LuAnn Houser 7/22/11
John Kramer
Thomas A. Leggett, Jr.
Steve MacInnis
Lance Moore 3/1/12
David O. Pierce
Bruce Sheffield
Michael L. White 12/31/11
Fred Zeigler
Provisional Member
Bob Calvert
Associate Members"
Gary Jones
Hampton Kicklighter
Local Pastors"
Elaine Barrow"
Robert (Bob) Brown
Willard Cecil
Harry Giles 10/1/11
Larry E. Gill
Henry Moore
Kenneth Preston
Sandra Lee Rose
Willard Siscel
George A. Weaver
Bobby Weeks
Diaconal Minister
Sally Granberry 12/31/11
Rev. Fred Zeigler spoke on behalf of the retiring class, passing the torch to Rev. Patsy Winford Gibson. Patsy represented the 2012 class of ordinands. A reception was held Monday afternoon in honor of the retiring clergy."
Service of Ordination and Commissioning: The Service of Ordination and Commissioning was held this evening in the sanctuary of Dauphin Way United Methodist Church in Mobile. Those in attendance represented family members and special friends of those being ordained. Prior to the start of the service, the chancel choir, chancel ringers, brass quintet and men's ensemble of Dauphin Way UMC presented worshipful music led by John Ricketts. The service included the ordination of one deacon in full connection and two elders in full connection and the commissioning of one provisional deacons and eleven"provisional elders. It also included the ordination of one being recognized from another denomination."Dr. Belton Joyner preached a sermon entitled, "Is Mini-Ministry Okay?" based on John 3: 22-30."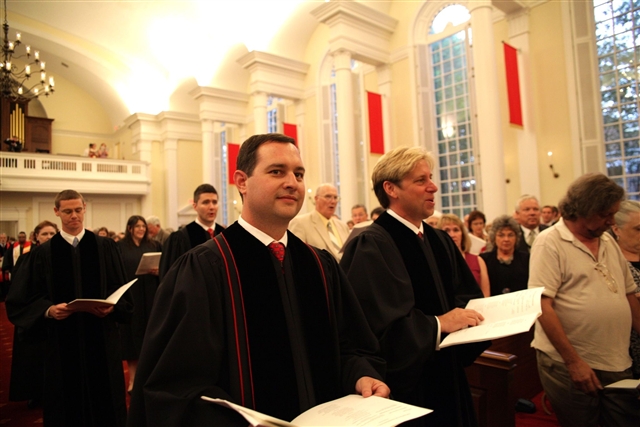 To see photos from tonight's ordination and commissioning service, click here."
Glory Wall: If you are attending annual conference, let us hear from you where you've seen Christ at annual conference. Briefly write down your thoughts on the pre-printed sheets and tape them to the glory wall (the windows in the back of the sanctuary)."
UMCOR Relief Kit Drive: As a reminder, please deliver your UMCOR Relief Kits to the trailer parked in the Christ UMC parking lot. Collection times are:
Tuesday -"7-9:30am, 12-2pm and 4:30-5:30pm
Wednesday -"7-9:30am and 11am-12pm
Get a Copy: CD and DVD copies of many portions of annual conference are available for purchase. Click here"for the order form."
Multimedia
Photos
View photos from the 2012 Annual Conference session (added daily)"
Live Streaming
Watch selections of the 2012 Annual Conference LIVE from your home or work."
Remaining Streaming Schedule
All sessions available at www.christumcmobile.com/annualconference, times are CST.
Tuesday, June 5
-Bible Study with Dr. Ben Witherington: 8:00am
-Conference Business Session, 9:00am
-First Teaching Session with Dr. Dana Robert: 10:00am
-Second"Teaching Session with Dr. Dana Robert: 11:15am
-Conference Business Session: 1:30pm
Wednesday, June 6
-Conference Business Session, 8:30am
-Service of Sending Forth: 10:15am

Social Media
Follow the action of the conference live at www.twitter.com/awfumc and www.facebook.com/awfumc. Tweeting during annual conference? Use the hash tag #awfac12 to share in the conversation."
Stay connected throughout Annual Conference at www.awfumc.org/ac2012."